The fairly unknown Bristol cars are my favourites. The 405 model is the only 4 doors' limousine the manufacturer has built and I bought this car in 1997. It has undergone some restoration, however, remains quite an original example of the car manufactured in 1956. More pictures of my Bristol 405 can be viewed by clicking on the picture.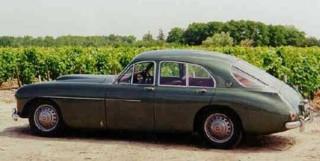 | | | |
| --- | --- | --- |
| In the former Sovjet Union, the Pabieda (Stalin's "Victory" car) was considered the ultimate luxery machine. The picture on the right shows a fine example , which was parked near my home in Tashkent. Here, I had ample opportunity to buy one for myself | | and even got out to get a closer look at a convertable ZIL, which was available for sale, but I couldn't decide whether it would really be a good investment. However, I took plenty of pictures of the cars, which we encountered in regular local trafficly. It makes a varied display of the cars, that were available behind the Iron Curtain. If the 'Western' standard of classic cars would apply in this region, i.e. cars over 25 years, some 75% of all cars driving around qualify. To no surprise, because, due to low humidity in Central Asia, cars hardly rot and will last forever. |
The Bristol 402 model has been one of the most glamourish convertibles of the 50ties. Nicknamed the 'Hollywood Special', movie stars and other celebrated individuals chose this car to cruise the boulevards in California and France. With similar looks to the Alfa Romeo 6C 2500 and other Italian thoroughbred cars, it shows her Touring pedigree. Only 22 cars were manufactured and just a few are remaining in a roadworthy condition. I bought my car in 2001 and, since, participated in several classic car events where I received a lot of interest and admiration from fellow enthusiasts. Passing through villages in Italy really make the autofiosi applaude and cheer ............. I cannot decide whether I like the car better with the hood up or down .....

More pictures of my Bristol 402, please click here.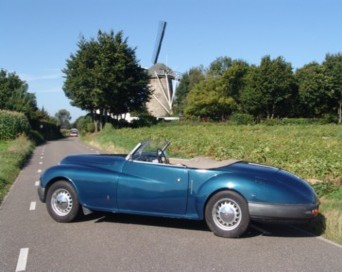 | | |
| --- | --- |
| | Bristol Cars Ltd of Filton (near Bristol), which still manufactures new cars today, exchanged their own 6-cylinder engine for a Chrysler 8-cylinder powerplant in 1961 and the cars produced match the grand style envisioned by the owners of the company. The 411 series 5 embodies most of the development stages since the early 60-ties and cars manufactured now are perfecting this model. The Bristol Fighter is a new development building on the company's racing experience and the desire to deliver a sport's car enticing the most demanding customers. The Fighter's T model with its powerful 1012 horsepower engine belongs to the very top of sporty roadcars. Click on the picture on the left for more pictures of the Chrysler engined Bristols. |